INTRODUCTION FROM WILLIAM J. ROTHWELL, PhD
In challenging economic times, organizations have a pressing need to attract, retain, and develop first-rate, highly-productive talent to gain and keep competitiveness. Many organizations are struggling to prepare for the so-called "Talent Wars." That has drawn much attention to the issue of talent management and talent development.
But what do these terms mean? What proven strategies work to attract, manage, retain, position, and motivate talented people as economic conditions globally become more challenging? This program addresses these questions.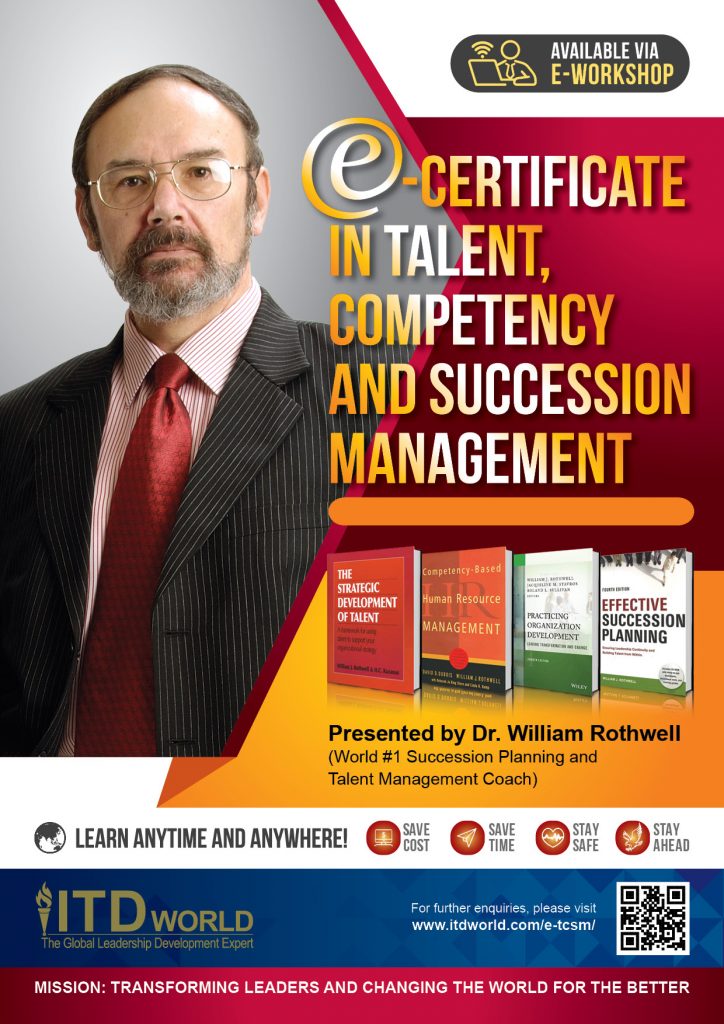 Real-world research has proved the fact that a talented employee can be as much as 20 times more productive than the average worker. Just imagine how much more we are capable of achieving with more talent in our organization.
Over the course of the 5-day, 1.5-hour per session workshop we will focus on key success factors plus the latest practices and developments in the area of talent management, competency modeling, and succession management. Dr. Rothwell will also be sharing with you many contemporary tools and technologies that you will be able to put to practical use right away.
He will bring you to the cutting edge of the profession and enable you to use effective talent, competency, and succession management strategies and tactics to create a competitive advantage for your organization which is sustainable through good and challenging economic times.
WHO SHOULD ATTEND
Senior Management, General Managers, HR Leaders, Vice Presidents, HR Managers, Talent Management Heads, Senior Executives, and Managers.
Learning Methodology:
eLearning
eWorkshop (Live webinar)
Duration: 1.5hrs per session (eWorkshop) + 6 hours of e-Learning (self-pace) per day X 5 days.
OBJECTIVES OF THE PROGRAM
Upon completing the 5-day, 1.5-hour per session workshop, participants will be able to:
Understand the terms of talent management and talent development and show how they relate to succession planning and succession management.
Describe how to make the business case for talent management and succession planning in tough economic times.
Make the case for a systematic approach to talent development in their organizations – even in difficult economic times and against the backdrop of a tough labor environment.
Describe a strategic model to drive talent management and talent development.
Discuss the theory and best practice of competency identification, assessment, and modeling as a foundation for talent management, development, and succession planning.
Review proven approaches to performance management as a tool for talent development.
Define potential assessment and explain how it differs from performance management.
Review proven approaches to assessing the potential of individuals for higher-level responsibility.
Discuss how to identify competency-building strategies and link them to a company-specific competency model by level on the organization chart.
Summarize proven, creative techniques to recruit and select talent.
Identify and use alternative sources of talent – other than internal development or external recruiting/selection.
Review key ways to implement individual development planning successfully.
Understand technical succession planning, focused on technical workers such as engineers or other knowledge-focused workers, and examine ways to transfer knowledge.
Define social relationship succession planning, focused on workers whose social relationships are key to successful performance (such as sales, marketing, and government/public relations) and examine ways to transfer social relationships.
Examine best practices in talent retention.
Prepare an action plan for participants to use upon their return to their organizations.